Driving courses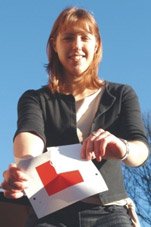 Driving courses available include:

Weekly Lessons
Block booking
All the courses shown use the unique LD System of driving tuition. Details about each of these services is described below with advice on how to decide which service would best suit you and for the prices or information on how to book one of these courses please visit the prices page. Please note taking a course does not guarantee that you will pass, however, if you successfully complete all the targets in the LDC workbook it is highly probable that you will.
Weekly Lessons
Learning to drive, using the LD System, can be spread over several weeks and lessons can be booked individually or in a block at a discount.
Unlike the courses described below the LD driving skills videos and workbook are not included in the lesson price, but can be purchased separately. As an alternative to buying the driving skills videos you can rent them, for a nominal fee, directly from your local LDC instructor.
Please note that if you want to undertake one of our driving courses you must have passed your theory test. Without the theory test passed a driving test cannot be booked, and therefore your instructor cannot arrange your driving course. To book your theory test click this link https://www.gov.uk/book-theory-test
All pupils who undertake their lessons with an LDC instructor get access to our theory revision online package, which can be accessed through your phone, tablet, laptop or PC.
How many hours will it take?
According to the latest Government survey people learning to drive in the UK buy on average 52 hours of professional driving lessons. This is why it is important to select the right driving school and training approach, with structured training with set goals to aim for.
The LD System isn't only useful for intensive training it enables weekly lessons to be conducted in much the same way with clear targets to aim for thus saving time and speeding up progress. The LD System DVD video and workbook also helps to overcome the "two steps forward one step back" problem of weekly lessons by allowing you to revise your last lesson while preparing for the next. This is particularly true if the materials are also properly used by a family member or friend to provide complementary practice in between lessons with your driving instructor.